Roxhill Webinar: Life as Property Correspondent at the Financial Times with George Hammond
Roxhill Media Property Webinar, 22 April 2020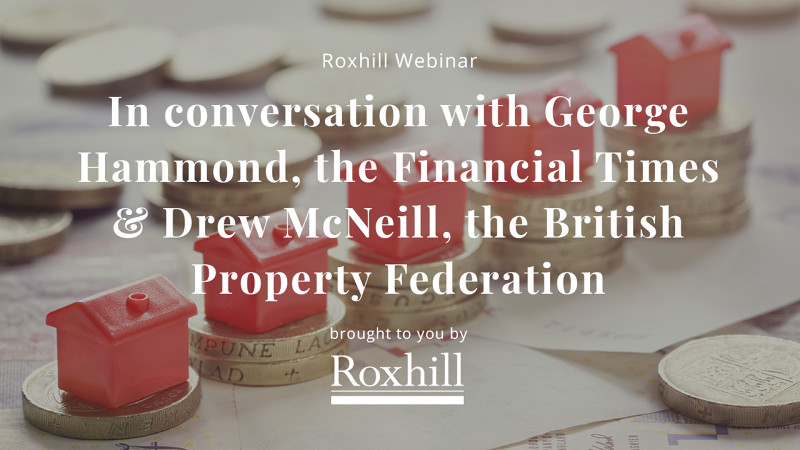 In conversation with George Hammond, the Financial Times & Drew McNeill, the British Property Federation
Join us on Wednesday 22 April at 1.30 to hear from George Hammond on life as property correspondent at the Financial Times.
Drew McNeill, Head of Public Relations at the British Property Federation, is our Chair for this exclusive Q&A session and the two will be tackling everything from COVID-19 to perception of the property industry.
The Speakers
George Hammond
took over as the FT's property correspondent in March, just in time to see property funds suspend, the housing market freeze and builders down tools. He covers both commercial and residential property, focusing on the UK market but with an interest on what's happening elsewhere too, particularly Asia and the US. Previously, he was covering finance in Asia, based in Hong Kong.
Drew McNeill
joined the British Property Federation in 2017, following six years as a communications consultant for real estate investor-developers in London and public sector authorities in Hong Kong. While in Hong Kong, he was also a corporate journalist at HR Magazine – a resource of news, trends and best practice guidance for HR professionals across Asia Pacific. Drew is responsible for impactful communications strategies that effectively inform and engage the media, government and the BPF's membership – to enhance recognition of real estate as a vital and responsible business sector; to improve understanding of the sector's priorities and the legislative support it requires to enable economic and social wellbeing; and, to raise awareness of the BPF's influence on legislation for a modern and sustainable built environment.
SOLD OUT
Please note, registrations are now closed.
Roxhill Media are delighted to host this event in partnership with the British Property Federation.
The British Property Federation is the membership organisation for, and the voice of, the UK real estate industry.
The British Property Federation represent and promote the interests of all those with a stake in real estate in the UK – owners, developers, funders (equity and debt), agents and advisers.
The British Property Federation work with government and regulatory bodies to help the real estate industry grow and thrive, to the benefit of our members and the economy as a whole. Because their membership is industry wide, they can provide government and regulators with the knowledge they need to make decisions.
Please contact our events team for cancellation, transfer and substitution requests.
Please note, this session will be recorded online.
The details you provide will be processed in line with the Roxhill's GDPR obligations. For information on how we handle your personal data please see our Privacy Policy.