Roxhill Webinar: Coronavirus, education and what journalists need
Roxhill Media Education Webinar, 29 April 2020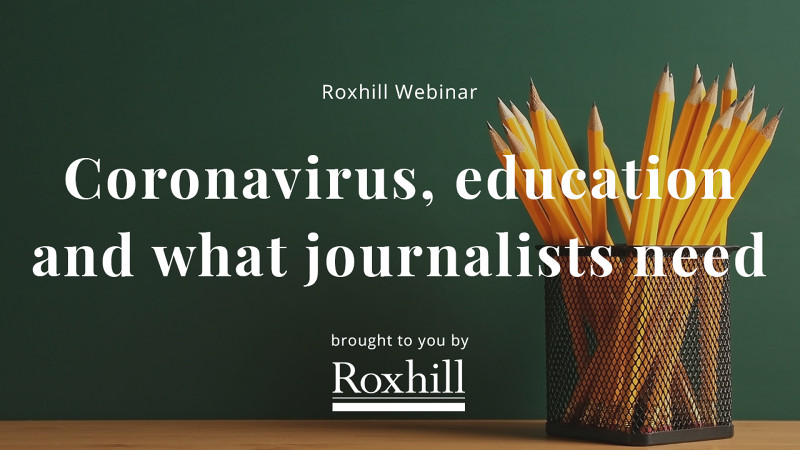 Join
Camilla Turner
- education editor at The Daily Telegraph,
Eleanor Busby
- education correspondent at PA News and
Will Hazell
- education correspondent at The i Paper for a discussion on:
Coronavirus, education and what journalists need
Join our webinar with leading national education correspondents to discuss how they have been covering education during the lockdown, and how you can best work with them. Chaired by education PR expert, Anna Pedroza.
Register for our webinar to ask questions and gain insight into how you can be better prepared to pitch and secure coverage in the current climate.
The Speakers
Camilla Turner
is education editor at The Daily Telegraph. She joined the newspaper in 2013 and worked as a reporter on breaking news, before joining the investigations department. She read History at Oxford University and then won a scholarship from the Arts and Humanities Research Council to study an MA Investigative Journalism at City University.
Eleanor Busby
is education correspondent at PA Media and writes about everything related to education – from nurseries and schools to apprenticeships and universities. She also specialises in school admissions, exams and assessment.
Will Hazell
is Education Correspondent for The i Paper and inews.co.uk. He was previously a reporter for the Times Educational Supplement and the Health Service Journal.
Book your place today:
Please note, ticket sales will end at 11:00am on Wednesday 29th April
Roxhill Media are delighted to host this event in partnership with Pedroza Communications, a boutique agency that helps their clients to reach people in education.
Please contact our events team for cancellation, transfer and substitution requests.
Please note, this session will be recorded online.
The details you provide will be processed in line with the Roxhill's GDPR obligations. For information on how we handle your personal data please see our Privacy Policy.