Political Journalist Moves - February 2019
News
We've logged 6 Political Journalist alerts in the first week of February - did your database catch them all?
Keeping your press lists accurate and updated is a crucial part of making sure that you're targeting the right people, at the right time.
Just in the first week of February, we logged 6 national Political Journalist news and alerts:
Sam Coates
Member of the Westminster lobby. Commentator for Sky & BBC. Presenter of BBC Radio 4's The Week in Westminster. Joining Sky News soon as Deputy Political Editor. His most covered topics include Brexit, members of parliament, the EU & European commission, welfare & benefits, and the budget statement.
Elizabeth Rigby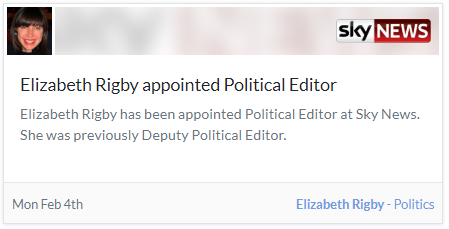 Most commonly known as Beth. Member of the Westminster lobby. To date, Beth has covered topics surrounding Brexit, police services, welfare & benefits, and child abuse. Her previous roles include chief political correspondent at the Financial Times and media editor at The Times.
Mark Hookham
Now the Senior News Reported for The Mail on Sunday, Mark's most covered topics surround the armed forces, transport by rail and road, mental health, police scandals, and much more.
David Williamson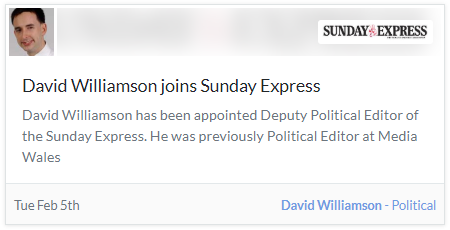 David has previously covered topics like welfare & benefits, Brexit, domestic abuse stories, and faith issues. David had been with Media Wales since 2002, and spent two years as a Business Correspondent.
Martyn Brown
Martyn has previously covered politics, foreign news and human rights, reporting from Afghanistan, Libya, Myanmar, Bangladesh. He lived and worked in Myanmar for 3 years, reporting on refugee crisis, conflict, human rights issues and travel.
James Heale
James Heale covers Scottish politics, the Conservative Party and topics surrounding univesity. Now covering politics and news for the Scottish Daily Mail. James has previously written for the Mail on Sunday, The Times Diary and The Tab Bristol.
If you're trying to engage with Political Journalists or Editors, out-of-date information is no help. With Roxhill, that is never a fear. Only Roxhill delivers Journalists Alerts – 5 days a week.

Roxhill Media can help you find these media updates; get insights into journalist interests and create bespoke contact lists on ALL Business writers in less than 10 minutes.