Roxhill Webinar: Life on the food and drink desks during Coronavirus
Roxhill Media Food & Drink Webinar, 31 March 2020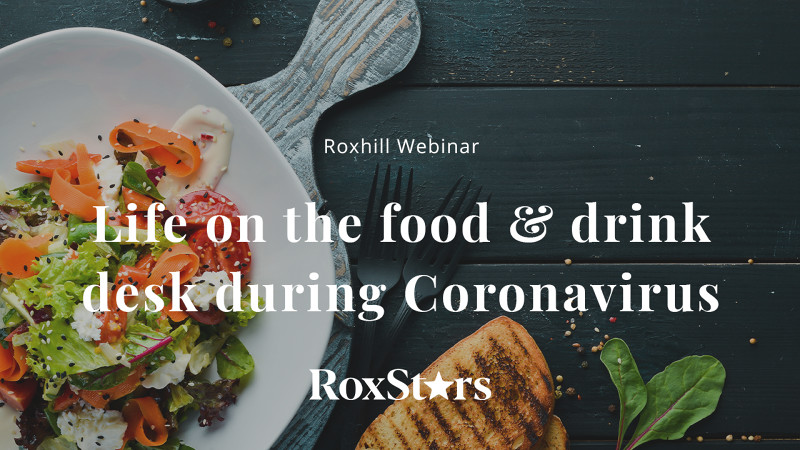 Join
Karen Barnes
- editor of delicious. magazine,
Jay Rayner
- restaurant critic and feature writer at The Observer,
Tony Turnbull
- food editor at The Times, and
Tim Hayward
- restaurant critic and food writer at the Financial Times for a discussion on:
Life on the food and drink desks during Coronavirus
Join our webinar with four leading national food and drink journalists and editors to discuss how they are dealing with coverage during the lockdown, and how you can best work with them.
Register for our webinar and participate in the chat, ask questions and gain insight into how you can be better prepared to pitch and secure coverage in the current climate.
The Speakers
Karen Barnes
has been editor of delicious. since April 2010 and a journalist for over 20 years. To say she's mad about food is an understatement. She put together her first (hand-written) magazine (complete with recipes and crossword) at age six and has been obsessively reading about food, cooking and writing recipes ever since.
Jay Rayner
is the Observer's restaurant critic and a feature writer. His most recent book is My Last supper: One meal a lifetime in the making.
Tony Turnbull
is the food editor of The Times, covering everything from news and features to restaurant reviews and recipe writing. He has written several cookbooks, both under his own name and in collaboration with celebrity chefs.
Tim Hayward
is a writer, broadcaster, restaurateur and unrepentant food geek. He writes a column and criticises restaurants for the Financial Times and his features have appeared in the FT, Guardian, Observer Food Monthly, Delicious, Olive, Waitrose Food Illustrated and Saveur, amongst others.
Book your place today:
Please note, ticket sales will end at 5pm on Monday 30th March
Please contact our events team at events@roxhillmedia.com for cancellation, transfer and substitution requests.
Please note, this session will be recorded online.
The details you provide will be processed in line with the Roxhill's GDPR obligations. For information on how we handle your personal data please see our Privacy Policy.