Education Journalist Moves - November 2018 to February 2019
News
Did these 6 Education Journalist move alerts come up on your database?
Keeping your press lists accurate and updated is a crucial part of making sure that you're targeting the right people, at the right time.
Did your database allow you to keep these contacts up to date?
Fraser Whieldon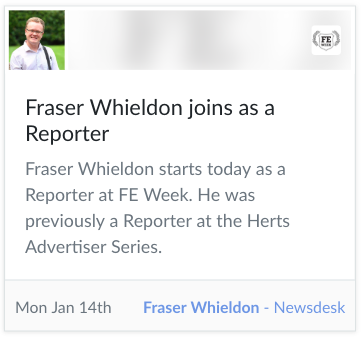 Fraser writes within the Education Management, Training and Teaching sector, covering such relevant topics. He can be found tweeting @FraserWhieldon.
Tim Dhoul
Tim mostly covers higher education topics. Tim strives to bring the world of business education to an audience without borders in his coverage of news, research and trends, and has a background in consumer journalism and the nonprofit sector.
Frankie McCamley
Frankie sits on the Education & Social Affairs desk for the BBC. She covers Education (National, Regional, Wires, Broadcast Journalists), Family topics and university issues.
Robert Wright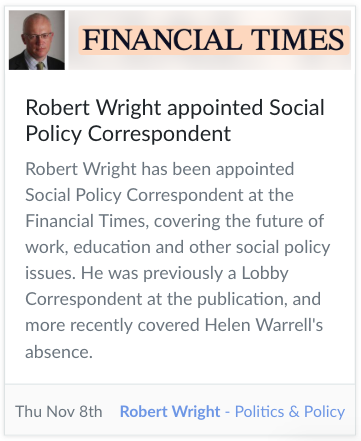 Robert covers the future of work, education, politics and other social policy issues. His most covered topics include Brexit, immigration policy, welfare & benefits and university, amongst others.
Mark McLaughlin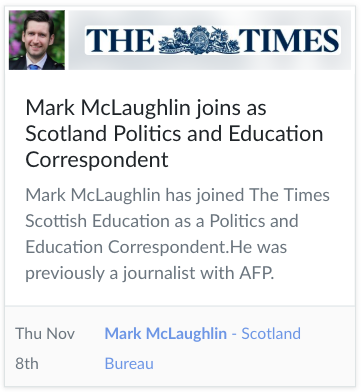 Mark covers topics such as police & policing issues, Scottish independence / regional devolution, Brexit, and alcohol intake issues.
Caroline Henshaw
Caroline writes within the Education Management, Training and Teaching sector, covering relevant topics. She has broad experience working for global media around the world as a manager and editor.
If you're trying to engage with Education Journalists or Editors, out-of-date information is no help. With Roxhill, that is never a fear. Only Roxhill delivers Journalists Alerts – 5 days a week.

Roxhill Media can help you find these media updates; get insights into journalist interests and create bespoke contact lists on ALL Business writers in less than 10 minutes.